INSTRUCTOR CURRICULUM
Follow along with the classes at our academy with ongoing lesson plans, techniques, positions, and drills for you to apply in your Jiu-Jitsu classes. Monthly lesson plan and resources.
LEARN OUR METHOD
TAKE YOUR CLASSES TO THE NEXT LEVEL!
Structured Learning Path: Our curriculum is organized in a logical and progressive manner, allowing you to guide your students through a clear learning path. Each technique builds upon the previous one, ensuring a seamless and effective progression that maximizes your students' growth.
[New videos added every week!]
FOR PASSIONATE MARTIAL ARTS INSTRUCTOR
IF YOU ARE AN HONEST & PASSIONATE MARTIAL ARTS INSTRUCTOR THIS PROGRAM IS FOR YOU!
LEARN OUR METHOD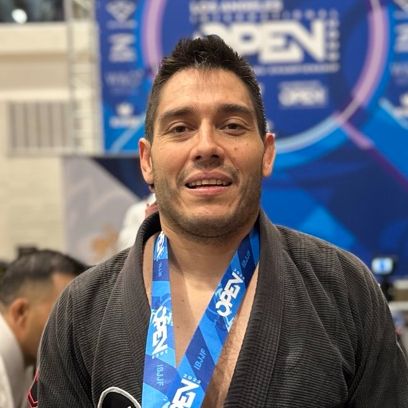 Student Success Story:
I've been practicing Jiu-Jitsu for 13 years now. I started training in a school near my neighborhood, but unfortunately, there weren't many options in Chile then. Although I trained for a while, I felt I wasn't learning as consistently as I would have liked. One day, I heard about a seminar being held by Professor Juan Pablo Garcia in my country. I didn't know much about him, except that he was from the US, but Ecuadorian by nationality and a recognized black belt in his home country and the US. Intrigued, I decided to attend his seminar.
From the moment Professor Garcia entered the school and began teaching, I was blown away. He explained each technique and sequence with such clarity that it all made sense to me. After that class, I knew I wanted to continue learning from him. So, I became his student and worked my way up from a white belt to a proud black belt under his guidance.
I highly recommend Professor Garcia's methodology to anyone who is interested in Jiu-Jitsu, whether you're a beginner or aspiring to become a professional. I'm confident that it will bring you significant benefits and transform your approach to Jiu-Jitsu in a positive way, just as it did for me. So, go ahead and try it for yourself. Enjoy the journey and see the results firsthand.
- Fabian Soto, Black Belt Instructor & School Owner
PERSONALIZED GUIDANCE:
As your Jiu-Jitsu instructor, I'm fully committed to providing you with personalized guidance and support throughout your journey. I'll be there to answer your questions, address your concerns, and help you overcome any obstacles that come up along the way.
LEARN OUR METHOD